Description
Acacia Honeycomb has a mild, sweet, floral flavour and is, therefore, one of the most popular honey varieties. It is a good choice for mixing with beverages because it sweetens without changing the taste of the drink.
Acacia Honey is also an excellent choice for cooking because of its mild flavour. It has hints of vanilla flavour and no aftertaste.
Acacia Honeycomb – light and healthy
Acacia Honeycomb is one of the most popular single origins types of honey out there. Due to the fact that it is mostly made of fructose, it has a very light and pleasant flavour as well as it retains its runny form for a very long time.
It is very popular with kids, which as we all know can bee fussy eaters, but not in this case.
Due to it's low glycemic index Acacia Honey does not cause a "sugar rush" like some supermarket honeys do as they are diluted with sugar syrups.
What is Acacia Honey Comb?
Acacia honey is derived from the nectar of the Robinia pseudoacacia flower, commonly known as the black locust or false acacia tree. Compared with traditional honey, it's often much lighter in color, appearing almost transparent.
What to use it for?
It is a good question. Acacia Honeycomb due to it's gentle nature and mild flavour is a perfect replacement for sugar in any flavour sensitive dishes. most popular use for it is in beverages as it dissolves very easily and doesn't overpower other flavour notes.
1. COMB WITH CHEESE
Pair your honeycomb with any type of cheese you'd like for a quick snack or a party tray. If you're hosting, try this beautiful and easy cheese plate with a few simple ingredients. Spoon your Honey & Comb on top and impress all your dinner guests!
2. SPREAD ON BREAD
Because of the unique texture of the comb, your honey will easily spread over your toast in a thick layer without the drip. Try layering your Honey & Comb over toast, scones, or on a baguette. You can even add meats or cheeses to make a sweet and savory sandwich.
3. REINVENT YOUR SALAD
The Food Network suggests topping your arugula salad with crumbled goat cheese and hunks of honeycomb. Adding that extra bite of honey might just take your at-home salads to the next level. Instead of drizzling with honey, add drops of honeycomb on top.
4.COMB IN BATTER
Pancakes, scones, and waffles with honey chunks? Yes please. Saveur say they use their honeycomb mixed into scone batter before baking. They also fold honeycomb into ricotta and serve over pancakes and waffles.
5. SIMPLY COMB
Remember, one of the most delicious ways to enjoy honeycomb is simply by itself. Take a spoon and dig in! We hope you enjoy!
Our favourite us for it is in salads. Especially with blue cheese.
Please visit our blog for some more culinary inspirations.
If you've tried our delicious Honey before then let us know what you thought of it on our Instagram or Facebook!
#honeybee #honeycomb #honeyme #honey #honeybees #rawhoney #milkandhoney #honeydew #jimshoneysurabaya #myhoney #honeys #honeytoast #organichoney #honeyberry #honeydip #sweethoney #honeycinnamon #honeybucket #wildhoney #honeygarlic #naturalhoney #honeywax #honeyhoney #honeycombs #honeypot #localhoney #rawhoney #edinburgh #scottishhoney #localhoney #realhoney #nauralhoney #unfilteredhoney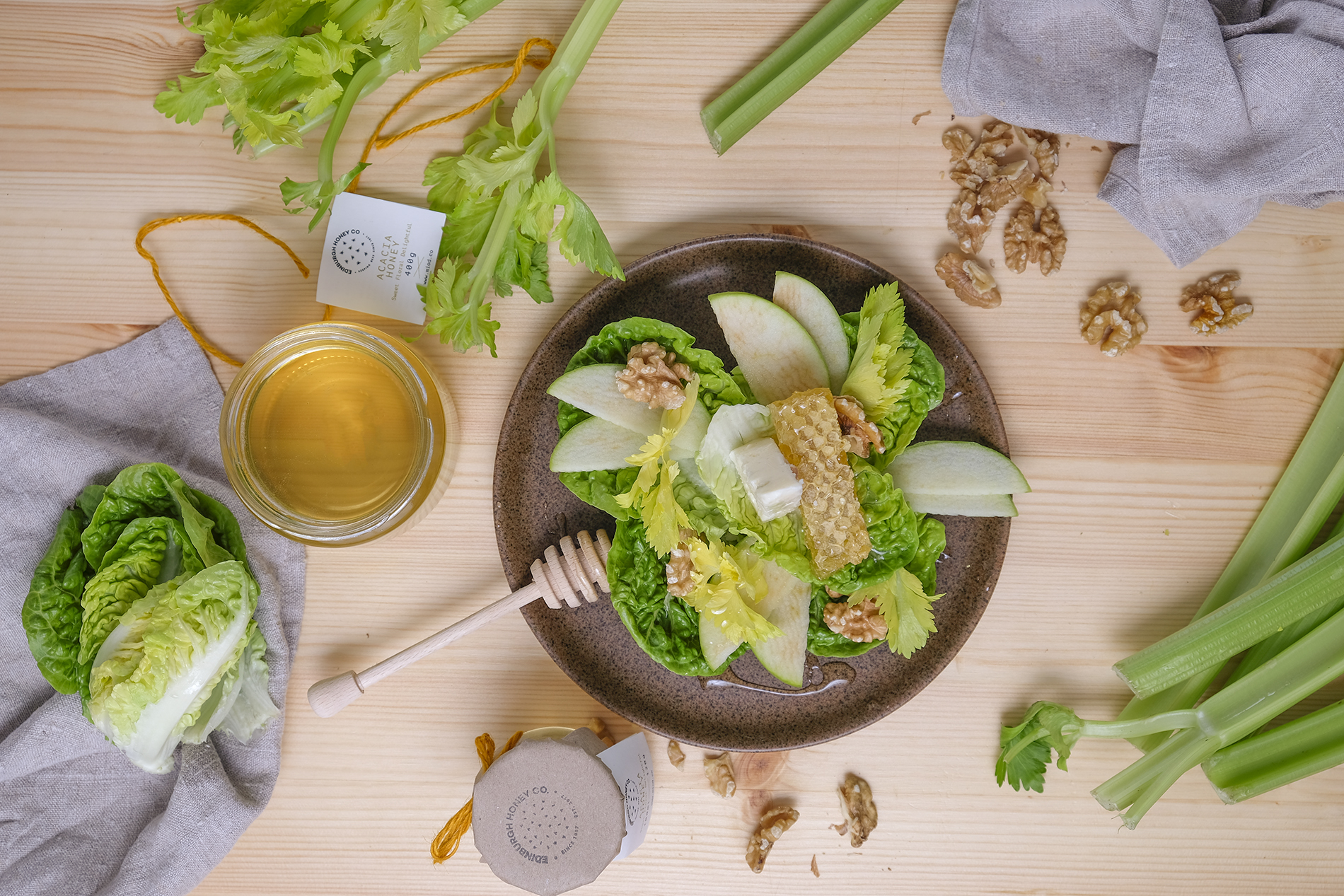 Check out our YouTube channel to learn more about bees and honey