February is a month of Love.
There is no doubt. Although heavily commercialized it can still bee of fun and memorable.

We love the fact that it can bee about all sorts of love not just a romantic one. For example: February is a month when we start a new beekeeping season and show our love and adoration to our lovely furry little honey makers.
Fun fact:
Besides couples, love and happy marriages, you might be surprised to know that St. Valentine is also the patron saint of beekeepers—charged with ensuring the sweetness of honey and the protection of beekeepers among many other things.
Now I start to like Valentines and will celebrate with a visit to my girls 🐝🐝🐝 with some🍯🍯 & 🥰🥰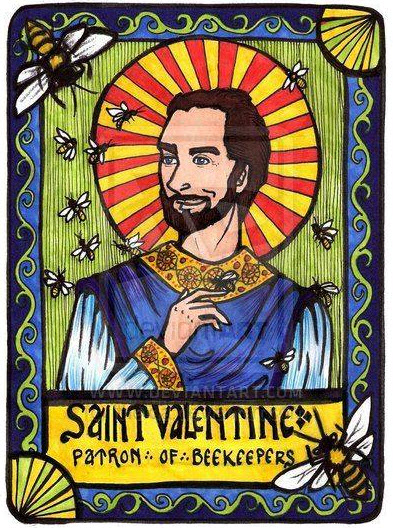 A brief history of honey
We know for a fact that honey and milk were the main food consumed by prehistoric people.
One of the earliest recorded instances of humans interacting with bee products comes from a modest spear point found in a Spanish cave, which was attached to its shaft with the aid of bee's wax 40,000 years ago

The archaeological evidence for bee keeping, not just wild honey collecting, is sparse, but what does exist is geographically broad. Bees were a common symbol in the Ancient World, with the practice of bee keeping seeming to be an important aspect to the neolithic revolution and the emergent dependence on agriculture. For instance the honey bee held a special place in Ancient Egyptian mythology, being born from the tears of the Sun God Ra. Bees are a hieroglyph that occurs as parts of titles of state, and depictions of horizontal hives decorate some tomb walls.
Honey and Love
The tradition of giving sweets to your loved ones traces back to pre christian times in easter Europe where a "Honey cake" was used to express attraction to that special person. Out of this treat came piernik and then gingerbread.

Here is a an amazing example of a recipe for this cake.

"Polish honey cake is another dessert of my childhood. The cake is light and has a mellow honey flavor without being too sweet. It's easy to make, delicious to eat, and I highly recommend it. Traditionally, the recipe calls for buckwheat honey which adds a distinctive touch to this classic Polish cake. It's a unique honey, very dark and very strong…and it takes a bit of getting used to if you haven't had before. However, for those less adventurous, a flavorful dark wildflower honey may be substituted for an equally delicious result, albeit not authentic."


INGREDIENTS
TOPPING

7 tablespoons

Unsalted butter

1/2 cup

buckwheat honey

; (or a flavorful dark wildflower honey)

1/8 teaspoon

Salt

1 teaspoon

Vanilla extract

1/2 cup

almonds ; slivered or sliced

CAKE

1 3/4 cups

unbleached all-purpose flour ; plus extra for preparing pan

1 tablespoon

Baking Powder

1/2 teaspoon

Salt

1/2 cup

unsalted butter ; (1 stick), at room temperature, plus extra for preparing pan

5 tablespoons

cane sugar

1/4 cup

buckwheat honey ; (or a flavorful dark wildflower honey)

2 large

Eggs ; at room temperature

1 teaspoon

Vanilla extract

1/2 cup

whole milk ; at room temperature
INSTRUCTIONS
Place oven rack in middle position and heat oven to 375 degrees F. Generously butter bottom and side of an 9-inch springform or cake pan, line bottom with a round of parchment paper, butter parchment paper. Dust pan with flour, knocking out excess; set aside.
For the Topping: Melt 7 tablespoons butter in a small saucepan. Add 1/2 cup honey and salt, stir until blended, and bring to a boil over medium-high heat. Reduce heat to low and simmer for 2 minutes. Remove from heat, stir in the vanilla and almonds; set aside to cool.
For the Cake: In a medium bowl, whisk together the flour, baking powder, and salt; set aside. In a large bowl, using an electric mixer or by hand, cream together the butter and sugar until fluffy. Gradually drizzle in the honey, continuing to beat, until light and fluffy. Add the eggs, one at a time, beating after each addition. Add vanilla and beat to combine. Add small amounts of the flour mixture alternately with the milk, beginning and ending with the dry ingredients, mixing until just blended after each addition, and scraping down the sides of the bowl with a spatula as needed.
Turn the batter into the prepared pan, distributing evenly, and smooth the top. Pour and spread the topping mixture evenly over the cake. Place the pan on a cookie sheet and bake in the center of the preheated oven for about 35 minutes, or until a skewer or toothpick inserted into the center of the cake comes out clean. Cake should spring back when gently touched in the center. When the cake is done, let cool in the pan on a wire rack for 10-15 minutes, then turn out onto the wire rack to finish cooling completely. Cut into wedges. Excellent as is, or dust with powdered sugar, or serve with sweetened whipped cream, if desired.
Makes one 9-inch cake, or about 8 to 10 servings.